How Often Should You Rotate Your Tires?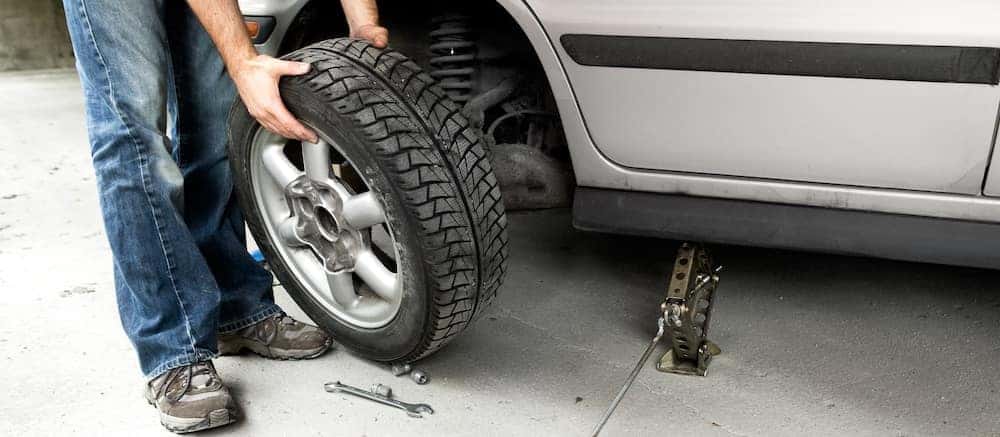 Tire rotations are an important, thought often overlooked, routine maintenance that your car needs. You know you shouldn't drive around Lubbock on bald tires, and you shouldn't drive around on tires with uneven wear either.
How Many Miles to Rotate Tires?
The general rule of thumb is that you should rotate your tires every 5,000 to 7,500 miles. To help you remember, it's a good idea to have your tires rotated when you get an oil change near Hereford. To get a better sense of the mileage interval, you can check your owner's manual.
FWD and RWD Tire Rotations
With a front-wheel drive vehicle, the power is sent to the front tires, and with a rear-wheel drive vehicle, it's sent to the back tires. The tires receiving the power wear faster than the other tires, so keep these tire rotation tips in mind for your FWD or RWD car, truck, or SUV:
FWD Tire Rotation: If you're doing this yourself, you'll need to flip the sides side when moving the rear tires. The right rear tire should be put on the front left side, and the left rear tire should be put on the front right side. The front tires should be moved directly back on the same sides.
RWD Tire Rotation: This tire rotation is the opposite of above. The front wheels switch sides, so the front right tire goes on the back left side. The back tires move directly forward on the same sides (back right tire on front right side).
AWD Tire Rotation
If you drive an all-wheel drive vehicle around Borger, know that each tire wears differently and different speeds. Wondering when to rotate tires with AWD? Experts recommend every 3,000 to 5,000 miles, but as always, check your owner's manual to be sure.
Why Rotate Tires?
Regularly rotating your tires extend the life of the tires, and prevents you have from having to get one or two new tires at a time. Additional benefits include:
Less stress on the drivetrain
Better traction on slippery roads
Quieter road noise
Evenly worn tires also make braking easier, and they provide better traction and handling when driving on slippery roads during inclement weather. While rotating your tires doesn't mean they'll last forever, it does mean that you'll fully get your money's worth before having to purchase a new set for your Honda, Subaru, GMC, or Buick vehicle from your local service parts center.
Learn More About Tire Care from Brown Automotive Group
To find out more about tire rotations or other tire services, contact us or visit us in Amarillo. We're happy to help you with your tire care and other routine maintenance needs.
More From Our Service Department
Tire rotations are an important, thought often overlooked, routine maintenance that your car needs. You know you shouldn't drive around Lubbock on bald tires, and you shouldn't drive around on tires with uneven wear either. Service Contact Us How Many Miles to Rotate Tires? The general rule of thumb is that you should rotate your…

If your vehicle isn't starting and you need to be on your way around Lubbock, a jump start may be in order. Follow our quick guide on how to jump start your vehicle created by Brown Automotive Group. Like oil changes and tire rotations, knowing how to jump a car is an important part of owning one….

Order Parts If you're looking around Lubbock for Honda parts cheap, you might be tempted to go for aftermarket parts, but you shouldn't. Why use only genuine Honda OEM parts? We're glad you asked, as we only use genuine Honda parts and tires when we service your Honda model. Honda Parts: Aftermarket First, what do…